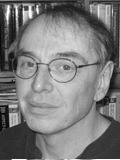 Brian Foote has over twenty-one years of professional software development experience.  He has been working with Smalltalk and objects since 1985. As one of the charter members of Ralph Johnson's fabled Smalltalk group at the University of Illinois, Brian was involved with some of the earliest work on domain specific object-oriented frameworks.
Brian is the author of over two-dozen published patterns and has been working with patterns for a long time, writing his first pattern paper for the first PLoP conference in 1994, and chaired the PLoP'96, conference on software patterns. Brian's research interests include object-oriented programming, design, reuse, languages, frameworks, software architecture, patterns, reflection, metalevel architecture, and software evolution, for starters. Brian has also written numerous papers on Smalltalk, object-oriented design, software reuse, patterns, and software architecture. These papers can be found on his website.  
He used Smalltalk to prototype an extensive framework for scientific laboratory experimental control and data acquisition. He subsequently implemented this framework, OSIRIS, in C++ and sold it commercially.  It is currently in use at several universities and research firms.
Brian was also involved in the development of the object-oriented enterprise frameworks developed at the Illinois Department of Public Health.  His current research, on using objects to build better object-oriented languages, is being conducted in Smalltalk.
Brian has a B.S. and an M.S in Computer Science from the University of Illinois.