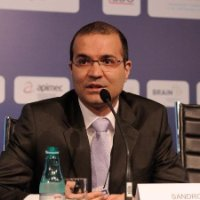 Sandro M. Manteiga, M. Sc., PMI-ACP, is a founder of Teams that Innovate. He holds an engineering degree on automation and systems (USP) and a master degree in Financial Math Modeling (USP). He is also a specialist on Business Management (FGV-SP).
Sandro has extensive experience as a teacher of financial modeling disciplines (project valuation, derivatives, risk management, fixed income and portfolio optimization) for graduates at INSPER and Instituto BM&FBOVESPA, where is also the Risk Management MBA coordinator. He is a co-author of the article Apreçamento de Contratos de Volatilidade a Termo no Mercado Brasileiro. For many years, he has been a speaker on events linked to Finance and Technology.
Sandro also has an experience of almost 20 years managing complex projects and developing technology solutions that demand high performance computing and advanced financial math modeling. The areas covered include: risk management, wealth management, pricing, and result. He has worked or provided services for top companies in Brazil, USA, Germany, and Mexico that includes: EDS (currently HP), Deutsche Bank, Banco do Brasil, BTG Pactual, Barclays, Merrill-Lynch and Itaú-Unibanco.
Sandro researches valuation and project management techniques to improve the success rate of IT projects. He adopts agile and lean approaches for software development. He also believes that agile teams, with highly skilled professionals, operating in a good working environment, can deliver high-value solutions. Currently, resides in Sao Paulo, Brazil.